Vacuum Pump, Street Use, Electric, Kit
The perfect solution for low vacuum.
These Stainless Steel Brakes electric vacuum pump kits are designed for use with a supercharger or big camshaft. They include a 12 V electric vacuum pump to supply your brake booster with the required power for brakes or other sources.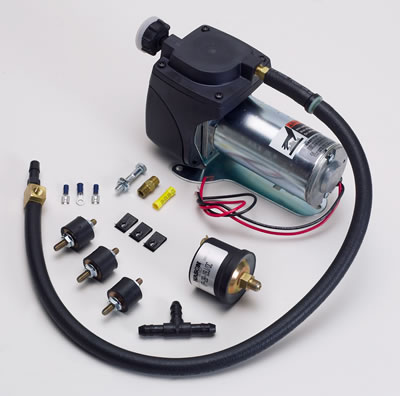 CLP-12VVCP $360
Vacuum Pump, Street Use, 12 V Electric, Kit
No vacuum? No Problem.
These Classic Performance 12 volt electric vacuum pump kits are designed to produce the vacuum that is required to operate power brakes. They mount inline between the intake manifold and the power booster. The pumps are internally regulated to turn on when vacuum drops below 15 in. of vacuum, and to shut off once it reaches 25 in. of vacuum. These kits include the vacuum pump, vacuum hose, and all necessary mounting hardware.
____________________________________________________________________________________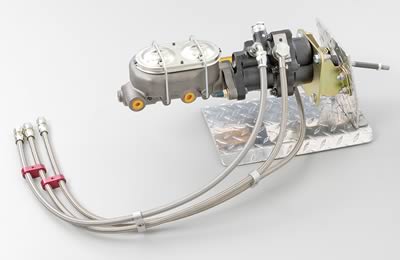 $500 to $800
The ultimate in brake power boosters.
These Power Brake Service Hyrdoboost brake booster systems are powered by pressure from the power steering pump, and can generate 1,200 to 2,000 psi to the brake calipers. They require no vacuum, allow for increased firewall and motor clearance, and can accept either stainless steel braided or standard rubber hoses. The booster is available in your choice of natural, black powdercoated, silver powdercoated, or chrome finishes. The systems are available with or without the master cylinder; systems including the master cylinder have a reservoir and cap to complete the installation.
____________________________________________________________________________________
GZ pumps generate more vacuum, flow more air and are more reliable. You won't be needing to take ours apart all the time to clean it! Our carbon fiber vanes with Rulon wipers seal better than anything else available which translates to less overall operating cost for your race car. Another feature you'll like is that they cost less than others, that's right, you get more pump for less money...
About $300 Pump only to $700 Complete Kit
Vacuum Pump Air Flow Tests
How much does a Vacuum Pump flow?
We conducted some in-house testing to see how much our pumps flow at different RPM's, and how they stack up against our competitors during the same test conditions. Since we test each pump for airflow when it is manfactured, it was a simple issue to modify our test bench for variable rpm to simulate actual crankshaft speeds. Here's what we learned...
Test Conditions
All tests were done on the SUCTION (inlet) SIDE (just like in an engine) using #10 inlet and outlet fittings with #10 inlet hose and outlet hose. Results could vary with larger or smaller fittings and hose.
Tests done from the outlet side indicated a higher cfm rating which does not appear to be applicable to creating suction or vacuum. All tests were done at a physical elevation of 3200' above sea level. Sea level measurements would tend to be higher. All RPM's are actual pump rpm, not engine rpm. To compute engine rpm divide the pump pulley diameter by the crank pulley diameter and multiply times the pump rpm. For example a 5.5" dia pump pulley divided by a 3.5" crank pulley = 1.571 X 3500rpm = 5500 Engine RPM. The same pulley sizes and RPM's were used for all comparisions.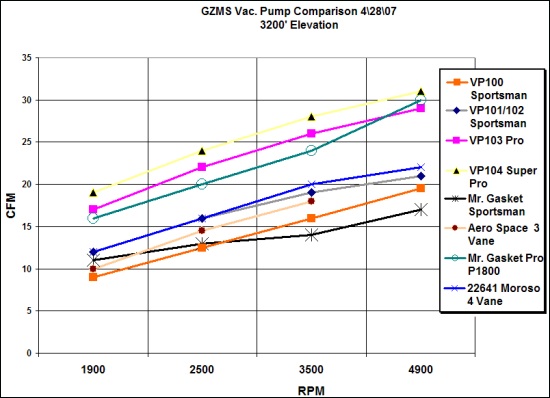 Test Data Values
Pump

RPM
(Pump)

"Hg

CFM

GZMS VP101 Sportsman

1900

16

14

2500

18

16

3500

21

22

4900

21

GZMS VP103 Pro

1900

20

17

2500

21

22

3500

23

26

4900

29

GZMS VP104 Super Pro

1900

21

19

2500

23

24

3500

25

28

4900

31

Moroso 4 Vane #22641

1900

17

12

2500

18

16

3500

21

20

4900

22

Mr Gasket Sportsman

1900

17

12

2500

19

13

3500

19

14

4900

17

AeroSpace 3 Vane

1900

8

11

2500

10

14.5

3500

No Data

20

4900

No Data
As you can quickly see, there are some big differences in air flow between the different models and brands of pumps. To learn what size of pump you need on your car
Naturally Aspirated
Dyno Test Results
Without Vacuum Pump
With Vacuum Pump
762ft lb@5100
772ft lb@5100
865hp@6700
890hp@ 6800
______________________________________________________________________________________